Like most of the fandom, my first reaction to him was ... "Who the hell is he?"
After some thought, I have decided that this is a GOOD THING. It could have been so much worse. I could have known who the actor was and hated him. So there was no crying "Oh Moffat, what have you done to my fandom?" for me.
Then again, there was no skipping round the room proclaiming my love for the Moff.
The Eleventh Doctor was just... the Eleventh Doctor.
My second reaction was "OH MY GOD HE'S SO YOUNG!!!" Which, from what I've read, was a pretty universal reaction in fandom as well.
It took me a while to decide whether he could be the Doctor or not. I vaguely remember him from 'Ruby in the Smoke' and I vaguely remember quite liking him. But it was only after I was told he was in it that I remembered him. Hmm...
I'm not going to judge him on looks alone (and from what I've seen, I'm one of the three people in the fandom who finds him attractive) nor how he acted in interviews. Because everyone knows that you can love characters onscreen and not like the actor in real life or vice versa.
But this photo: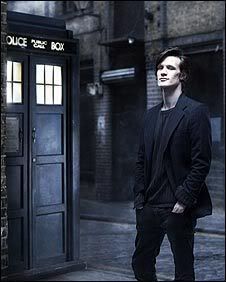 made me think "Damn, he looks good next to the TARDIS!"
So all is well.
I want to avoid being fanwanky, but I for one hope he's a bit more mature and less manic than Ten, otherwise he's just going to look like a kid with a time machine.
As for companions? More than one please, and preferably older.
Okay, I'll shut up now :P
I'm putting this under a cut even though it's practically impossible to not know who it is unless you live under a rock.
Current Mood:

hopeful